Facility & Workforce Management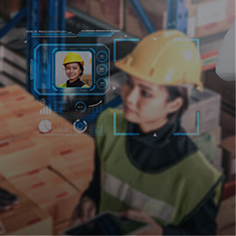 Seamless Access Control
Empower User Experience with End-to-End Access Control
Fully customizable and end-to-end, cloud-based biometric-integrated access control provides easy configuration, hardware independence, centralized biometric database management, and detailed reporting. High accuracy, search speed, and low error rate make our AI-powered technology the starting point when choosing a biometric-based access control solution. From video surveillance to anomaly detection, e-gates, digital personnel identity cards, touchless access control units, we provide a complete technology set with one partner.

Biometric scanners integrated into BEOGS ABC and BEOGS EasyPass provide fast and accurate identity verification in seconds for both local and central inquiry options via the central HOLISTIKA.

BEOGS EasyPass brings a convenient, self-processing security check using multi-biometric (finger, face, iris), a smart card reader for ID cards, passport reader, or QR code reader. For high-level security concerns, BEOGS ABC is recommended.

DDIP – Data-Driven Insight Platform enables video-based security system and detects persons, objects, and behaviors of interest for shopping malls, schools, laboratories, private, and public enterprises.

Take the control of your business with count and classify employees, visitors, vehicles, license plates, objects, or events to get alerted and improve security with multi-biometrics.

PYUZ Snapface and DDIP detect faces in a live video stream and instantly classify VIP lists, blacklists, and authorized individuals. DDIP identifies objects and people for supporting anomaly detection, suspicious behavior, emergency responses, and situational awareness.

PARS – Personnel Access Radar System is a full comprehensive biometrics access system that consists of fingerprints and palmprints via LS Series and GK-01 – Fingerprint Control Unit, iris via OPTIKA – Dual Iris Scanner, face and skeleton via KS-01 - AI-based Access Control Unit, and digital identity via DIP.

PARS recognizes personnel and visitors and performs access controls according to the permissions given, wherever access control is needed, including the area and the building via LAN, WAN, Wi-Fi, or offline mode.

DIP – Digital ID Platform simplifies the registration process remotely and creates biometric-based personnel and visitor identity cards digitally.
Trusted and Proven Technology
Deploy NIST - Face Recognition Vendor Test (FRVT) ranked face recognition technology for avoiding bottlenecks at access points.
Easily plug-in biometric identification
Provide end-user, client, and central components without any dependency: live scanners, stations, e-gates, access control units, criminal investigation tools, core ABIS and application software.
Modular and Seamless Integration
Provide robust, easy-adaptable multi-biometric solutions to tailored specific use cases with unlimited architecture, database, and features.
Biometric Workforce & Visitor Management
AI-powered technology leads to security and efficiency
Optimize your workforce and engagement with overall activity monitoring, accurate time and attendance tracking, seamless access control, digital personnel and visitor identities, remote-hr onboarding, and personnel protective equipment detection to improve productivity, business, and overall operation. Maximize your business efficiency for the field force with the use of biometrics, route and location tracking, and remote verification.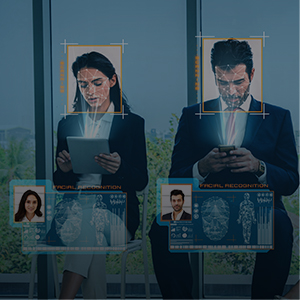 Implement AI-powered face and object recognition to your work ecosystem to take labor protection, time management, and access control to the next level with DDIP – Data-Driven Insight Platform.

Empower safety in kindergartens, schools, hospitals, factories, facilities by tracking visitors and personnel movement to avoid potentially dangerous situations.

Forget to sign a logbook and issue an ID badge for visitor management. DIP – Digital ID Platform provides a modern, affordable, platform-based solution to issue a digital badge with selfie biometrics.

Recruit new employees remotely with selfie recognition, liveness check, and identity document authentication via DIP's onboarding solution. DIP control validation status and create KYC reports to send HR for eliminating unsuitable applications directly.
In case of an industrial accident, calculate the exact number of employees who are missing with DDIP.

DDIP's face, object, and text layers offer a comprehensive detection ability vehicle, license plates, employee IDs to control and authorize the parking area of your facility with biometric-integrated license records.

Track the movement of people with DDIP and make vision-based occupancy detection on specific areas of video streams to anticipate bottlenecks and overcrowding. Alert automatic alarms to reallocate your workforce to serve better for your customers.

Detect personal protective equipment (PPE) such as masks, hard hats, goggles and automate safety and compliance monitoring to minimize accidents and increase efficiency with DDIP.

BEOGS EasyPass – Self-Boarding Gates brings a convenient, self-processing access control by using multi-biometric (finger, face, iris), a smart card reader, or a QR code reader.

Enable your employees to work from any location by confirming their presence through face recognition and geolocation via DIP.
Reduced Paperwork and Cost
Reduce your paperwork and eliminate the expense of ID cards, making data collection and visitor processing digitally fast and efficient.
Easily plug-in biometric identification
Provide end-user, client, and central components without any dependency: live scanners, stations, e-gates, access control units, AI-platform, core ABIS and application software.
Multi-modal capability
Supports fingerprints, palmprints, face, iris, and footprints verification and identification.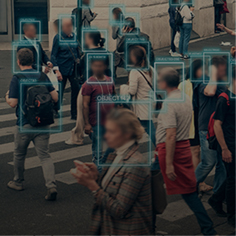 Video Analytics for Sensitive Places
Full Motion AI-Powered Video Analysis
Crowded areas are open to confluence and manipulation. Performing ID checks manually, checking for banned objects or illegal substances on hundreds or even thousands of people is no task that could be tackled by multiplying the number of security personnel. Detect objects, activities and track people faster in video streams using computer vision and AI to protect buildings, public or private spaces, and crowded areas.

Use face, object, and behaviour detection layers of DDIP – Data-Driven Insight Platform with aerial drone cameras or CCTVs to improve surveillance, identify object threats and suspicious activities with accuracy and speed.

Detect orphan and forgotten objects left in the field, objects not allowed at airports, train stations, in the "Safe City" on-street cameras.

Set overcrowding detector with customizable threshold, when the allowed number of people is exceeded, and enable watchlist detection with PYUZ, face recognition technology for blacklisting criminals and unwanted visitors.

Detect unexpected vehicle stops, license plates, anomalies, and dangerous situations automatically with DDIP.

Quickly locate people, objects, and vehicles throughout using our Similarity Search capability in DDIP and PYUZ Snapface.

Customizable analytic dashboards and pre-made detectors allow users to detect anything visible on camera - whether that is a person, a weapon, a suitcase, or a car.

Use PYUZ to search for missing people, identify criminals and terrorists, and help to investigate crimes in the fastest way. Get instant matching alerts in the mobile app or web platform via CCTVs, smart glasses, or collar cameras.
Proven Technology
NIST certified, high-quality face detection, recognition, and identification including demographic analysis as gender, emotion, and age recognition.
High-Performance Algorithm
Up to 50 million face comparisons per second on live video streams or images. The algorithm is optimized for any platform, including mobile and embedded.
Agility and extensibility
Meet with hardware agnostic technology that works with any camera, hardware, or AI models.